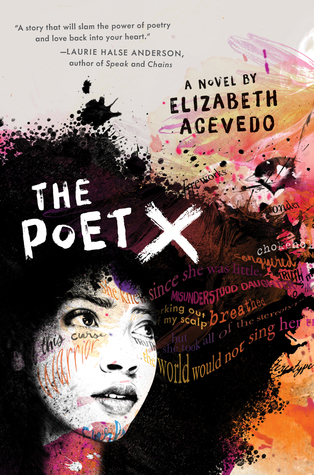 "A young girl in Harlem discovers slam poetry as a way to understand her mother's religion and her own relationship to the world. Debut novel of renowned slam poet Elizabeth Acevedo.

Xiomara Batista feels unheard and unable to hide in her Harlem neighborhood. Ever since her body grew into curves, she has learned to let her fists and her fierceness do the talking.

But Xiomara has plenty she wants to say, and she pours all her frustration and passion onto the pages of a leather notebook, reciting the words to herself like prayers—especially after she catches feelings for a boy in her bio class named Aman, who her family can never know about. With Mami's determination to force her daughter to obey the laws of the church, Xiomara understands that her thoughts are best kept to herself.

So when she is invited to join her school's slam poetry club, she doesn't know how she could ever attend without her mami finding out, much less speak her words out loud. But still, she can't stop thinking about performing her poems.

Because in the face of a world that may not want to hear her, Xiomara refuses to be silent."
I received this, with thanks, from Netgalley for review purposes.
This is the best book I have read since March, when I read The Cruel Prince. It was just what I needed at the moment. It's a verse novel, written through Xiomara's poetry. The language is beautiful, and some of the phrases were so quotable.
I loved the characters, I loved Twin and Xiomara. I felt Xiomara's emotions right along with her.
The story was powerful and moving, but not distressingly so. I loved the inclusion of Xiomara's assignments. I loved seeing her first draft/s and then seeing what she actually handed in.
This is a beautiful book that educated me a lot. I don't know anything about Dominican culture, or growing up in a foreign country, but I felt like this book opened my eyes a lot.
I've seen a lot of people complain about books where there are foreign language words, phrases or sections with no translations. To me, I applaud this, because it's meant to make you look things up. To want to find out about something that's new to you. To go and learn. To open your mind and your eyes. (Disclaimer: the bigger passages were translated). Why should we have everything translated to English? There are many other languages in the world. We're perfectly capable of finding a dictionary, using Google Translate or asking a native speaker. Isn't the point of reading books by and about people with a different life experience than you, to learn? To become interested in things you've previously ignored?
This book is amazing, and it's one of my favourites. I can't wait for Elizabeth Acevedo's next book and I will definitely be buying it.
5 stars.